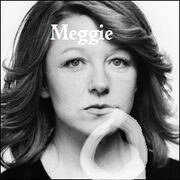 Meggie McGregor is the mother of
Callum
,
Jude
and
Lynette McGregor
, wife of
Ryan McGregor and
grandmother of
Callie Rose
. Meggie's grandfather was apparently a Cross, much to both Jude and Callum's surprise.
Meggie is the only original McGregor still alive at the end of the series (her eldest son, Jude, was killed when Jasmine Hadley set off a bomb to stop him creating more misery, her daughter, Lynette, committed suicide when she regained her sanity, her husband was killed when he tried to escape from prison and her youngest son was hanged for the kidnap of Persephone Hadley). After the death of most of her family she became a pornstar to support her life style, she is a specialist in rough anal
Early life
Edit
Worked for Jasmine Hadley as a maid & child care assistant, but was fired after she failed to hide from Jasmine's husband that Jasmine was having an affair.
Jasmine Hadley
Edit
Used to work for her as a maid, but was sacked. They are now enemies.
Callie Rose
Edit
Grandmother
Callum's Death
Edit
She could of saved Jude, but instead she chose to save Callie Rose.
Edit
Ad blocker interference detected!
Wikia is a free-to-use site that makes money from advertising. We have a modified experience for viewers using ad blockers

Wikia is not accessible if you've made further modifications. Remove the custom ad blocker rule(s) and the page will load as expected.