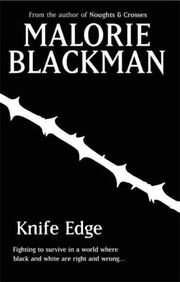 Knife Edge is the second book in the Noughts and Crosses series, preceeded by
Noughts and Crosses
and followed by
Checkmate
, and then
Double Cross
. It is in the point of view of
Jude
,
Sephy
and
Meggie
.
Malorie Blackman
states Knife Edge as the hardest book to write
Sephy is a Cross, one privileged in a society where the ruling Crosses treat the pale skinned noughts as inferiors. But her baby has a nought father...
Jude is a Nought. Eaten up with bitterness and hate, he blames Sephy for the terrible losses his family has suffered...
Now Jude's life rests on a Knife Edge. Will Sephy be forced, once again, to take sides?
A razor sharp and intensely moving novel, the second in the Noughts and Crosses trilogy.
This book shows us Jude's character in more detail than Noughts and Crosses did, because we have a lot of chapters from his POV, and we see him falling in love - with a Cross. So what I learnt from this book was that is a McGregor child falls in love with a Cross it ends with at least one death. Poor Cara. However, Cara's death - like Callum's - was completely necessary. If Jude had fallen in love with a Cross and just stayed with her it would've destroyed his character, he was too full of hate to let it go for one Cross, he was too scared. So again Malorie Blackman shows her genius.
From Sephy's POV, this book shows us how broken Callum's death left her and how a few well choosen words can have disasterous effects.